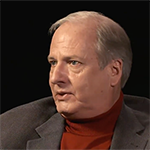 Vin Weber served in Congress from 1980 to 1992, representing Minnesota's Second Congressional District. He is managing partner for the Washington, D.C., office of Clark and Weinstock, a consulting firm providing strategic advice to businesses interested in the policy-making process of the legislative and executive government branches. Prior to joining that firm, Weber established the nonprofit organization Empower America with Jack Kemp, Jeane Kirkpatrick, Willliam Bennett, and others. The organization advocates policies that emphasize individual responsibility and accountability in approaching economic, social welfare, and education problems.
Weber currently chairs the National Endowment for Democracy, a private, nonprofit organization created in 1983 to strengthen democratic institutions abroad. He also serves on the newly formed National Commission on Public Service, charged with improving performance and management in government agencies.
Weber is a trustee of the German Marshall Fund, co-chair of the Aspen Institute's Domestic Strategy Group, a member of the Visiting Committee for Harvard's John F. Kennedy School of Government, a member of George Washington University's National Council for Political Management, and a senior fellow at the Center of the American Experiment. Weber also is a regular commentator on National Public Radio and is often sought as a political analyst for network programs, such as CNN's Capital Gang and Crossfire.
(From the University of Minnesota).