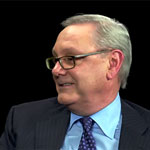 Edward Conard is an adjunct fellow at the American Enterprise Institute, where he works on US economic policy — in particular, on the effect of taxes, government policies, and finance on risk-taking and innovation.
A founding member of Bain Capital, Conard was in charge of the New York office and responsible for the acquisitions of large industrial companies. Previously, he worked for Wasserstein Perella & Co., an investment bank that specialized in mergers and acquisitions, and Bain & Company, a management-consulting firm, where he led the firm's industrial practice.
Conard is the author of two top ten New York Times bestselling books: The Upside of Inequality: How Good Intentions Undermine the Middle Class and Unintended Consequences: Why Everything You've Been Told About the Economy Is Wrong.
Conard has a master of business administration degree from Harvard Business School and a bachelor of science degree in engineering from the University of Michigan.
(From AEI).