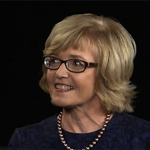 Diana Schaub is a professor of political science at Loyola University Maryland and a member of the Hoover Institution's Jill and Boyd Smith Task Force on the Virtues of a Free Society. In 2001, she was the recipient of the Richard M. Weaver Prize for Scholarly Letters. From 2004 to 2009 she was a member of the President's Council on Bioethics. She is the author of Erotic Liberalism: Women and Revolution in Montesquieu's Persian Letters(Rowman and Littlefield, 1995), along with a number of book chapters and articles in the fields of political philosophy and American political thought. She is also a co-editor (with Amy and Leon Kass) of What So Proudly We Hail: The American Soul in Story, Speech, and Song (ISI, 2011). Ms. Schaub's work has also appeared in National Affairs, The New Criterion, The Public Interest, The American Enterprise, the Claremont Review of Books, Commentary, First Things, The American Interest, and City Journal.
From 1994 to 1995 Ms. Schaub was the postdoctoral fellow of the Program on Constitutional Government at Harvard University. She has taught at the University of Michigan at Dearborn and served as assistant editor of The National Interest. She earned an A.B. from Kenyon College, where she was elected to Phi Beta Kappa, and an M.A. and Ph.D. from the University of Chicago.
(From The New Atlantis).